The Paradiso Restaurant
welcomes guests to a luxurious interior where, in an atmosphere of comfort and excellent service, the menu offers the best European cuisine complemented by elite wines whilst on the summer restaurant terrace guests can choose from fish and seafood delicacies and sample the tastiest stone grilled dishes.
For special events, up to 30 guests can celebrate any and every occasion in our banqueting room. We can offer suitable menus for banquets, buffets, business dinners, corporate events and children's parties. During the summer, dinner may be taken on the panoramic Paradise Terrace from which there is a breathtaking sea view.
Here hotel guests can choose to enjoy the Continental Menu and Smorgasbord breakfast either demi-pension or pension.
The Сaesar Lounge Bar
is one of the most popular places in Yalta where the original interior and seaside position provide a great setting for bright parties with the best in popular music from the retro 60s to modern singers and popular Djs participation.
The bar offers a wide variety of cocktails and light snacks throughout the evening.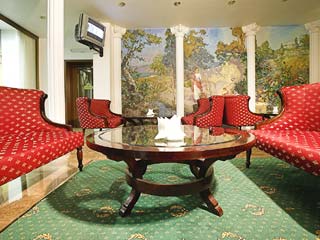 The red
Lobby Bar
, sofas provide a comfortable setting from which to catch up with the news of the day on the television screen and enjoy choosing from the delicious European snack menu and the extensive wine list. We even offer a cigar menu in this bar to make relaxation guaranteed after a busy day.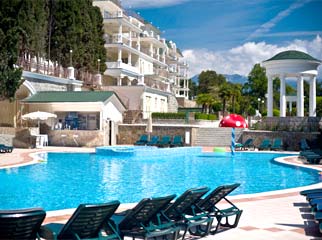 The Pool Bar.
Guests can bask in the sun, relax and surrender to the incomparable taste of pleasure which the Palmira Palace Pool Bar offers. This bar offers perfect Chef's dishes, a delightful range of fresh cocktails, ice-cream or a glass of iced tea. After sampling these chilly delights another dip into the seawater pool with its sparkling mosaics will be a must.
The Billiards Bar.
This is just the place to spend a pleasant hour or two with friends and , perhaps, participate in a billiards or pool tournament. At the bar there is a wide choice of European cuisine with perfect cocktails and wine. The bar also offers tea and it own menu of freshly-squeezed juices.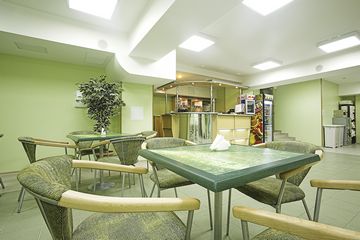 The Phyto Bar
!!!перевод!!! отеля Palmira Palace предлагает своим гостям большой выбор свежевыжатых соков, напитков, тонизирующих чаев, кофе и фруктов.